Deputies Removed a Person Claiming to Have Johnny Depp's Baby From His Defamation Trial
As the defamation trial between Johnny Depp and Amber Heard moved to a short break on day 20, an outburst from a spectator and baby grabbed the court's attention. According to witnesses, someone stood up and yelled to Depp,"This baby is yours!"
Keep reading to discover what the individual did after being removed and disallowed from coming back to court. Plus, what did expert witnesses testifying for Heard say about Depp's versions of events in their marriage before the scene went down?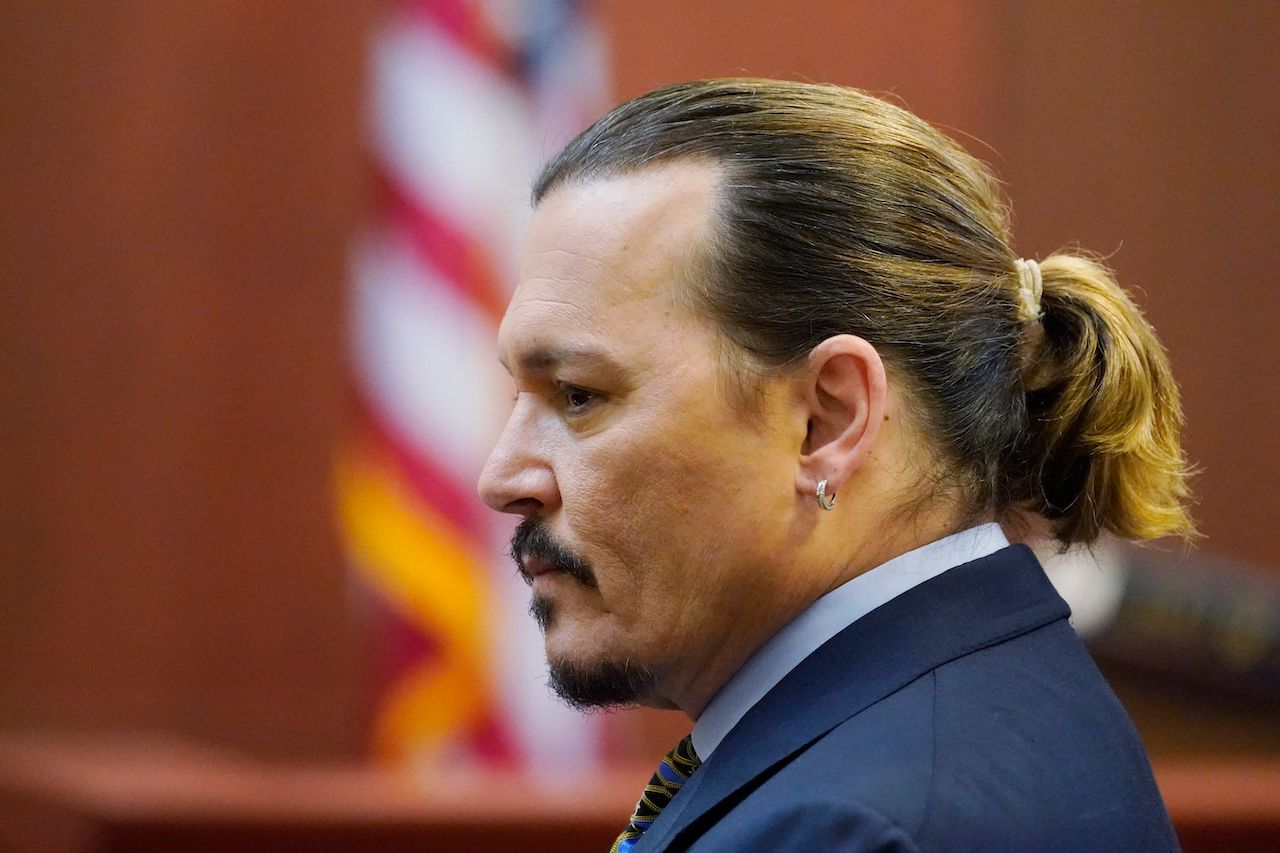 Expert witnesses testified to discredit Johnny Depp
In court before the scene, Heard's team called an orthopedic surgeon to the stand. That witness disputed Depp's version of his finger injury in court testimony. Depp's attorney, Camille Vasquez, pointed out that the surgeon had never examined the damage done to Depp's finger in person.
Then, Heard's attorneys called an expert psychiatrist who testified Depp's documented behaviors are consistent with certain dangerous personality traits. Notably, he made his conclusions without ever having examined the actor personally.
That doctor argued with Depp's attorney about the ethics of expert witness testimony, and the back-and-forth made for some exciting moments in the courtroom. The judge eventually reprimanded the witness to get things back on track.
But what was perhaps the most sensational moment of the morning didn't happen on camera. During a court recess, a person stood up at the back of the room and started yelling at Depp.
Deputies removed a spectator from the courtroom for yelling to Johnny Depp, 'This baby is yours!'
Law & Crime's Angenette Levy reported on the situation with the trial watcher inside the courtroom. She said the interaction wasn't on the live feed because it happened during a morning break. The judge wasn't present when a woman at the back of the room with a baby stood up and said, "Johnny, I love you. Our souls are connected."
According to Levy, the Nightmare on Elm Street actor turned and waved as he sometimes does when fans talk to him during the trial. The individual then held up the baby and said, "This baby is yours!"
The deputies responded by removing her from the courtroom and taking away her wristband, meaning she couldn't come back. All in all, it was pretty "wild," Levy said.
Notably, that person was still waiting outside of the courthouse as Law & Crime later reported on the scene that went down inside.
Spectators show up daily for a chance to see a star
To say the trial has caused a stir around the facility is an understatement. Gaggles of fans bring signs to show their support for both stars. One person has even brought alpacas in pirate hats to hang out, seemingly in support of the Pirates of the Caribbean actor.
The love doesn't go unnoticed by Depp. "I just made breakfast for all of them this morning," he joked about excited fans with a Law & Crime cameraperson. "Waffles."
RELATED: Amber Heard Pledged $7 Million From Divorce to Charity but That's Not How Much She Donated
Source: Read Full Article