Queen Latifahs Tearjerking Response After Receiving This Huge BET Honor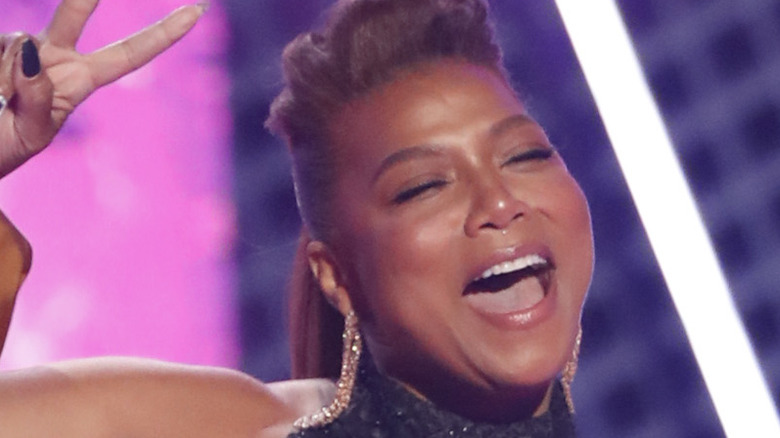 On June 27, the BET Awards presented actress, rapper, and producer Queen Latifah with the Lifetime Achievement Award (via Entertainment Tonight). 
Queen Latifah first burst onto the music scene in 1986, when she was spotted performing at a Newark, New Jersey talent show as part of a duo called "Quiet Storm" created by music producer Mark Howard James (via Slate). In record time, the young artist was signed to Tommy Boy Records, becoming part of a Native Tongues, a group of acts with a similar aesthetic.
From there, she rose to the top of the charts with hits like "U.N.I.T.Y." and "Bananas [Who You Gonna Call?]." Queen Latifah's style was markedly different from other female MCs of her time.
"Latifah and MC Lyte weren't selling sex. And Salt-N-Pepa sold it a little more than Latifah and Lyte did," Dante Ross, A&R at Tommy Boy Records at the time, told Slate. "It was reflective of what was going on in hip-hop. Everything was positive and about self-empowerment. Public Enemy started the trend of Black empowerment, Black consciousness, and the Jungle Brothers and De La [Soul] did it in a less 'threatening' kind of way, a more psychedelic way, and Latifah and Monie Love were part of that." 
And while she went on to star in hit movies including "Just Wright" and "Girls Trip," and produce numerous films – including the TV biopic about Salt-N-Pepa titled after the duo – the hip-hop legacy she paved for current female rappers cannot be forgotten. 
Queen Latifah shares powerful words during her acceptance speech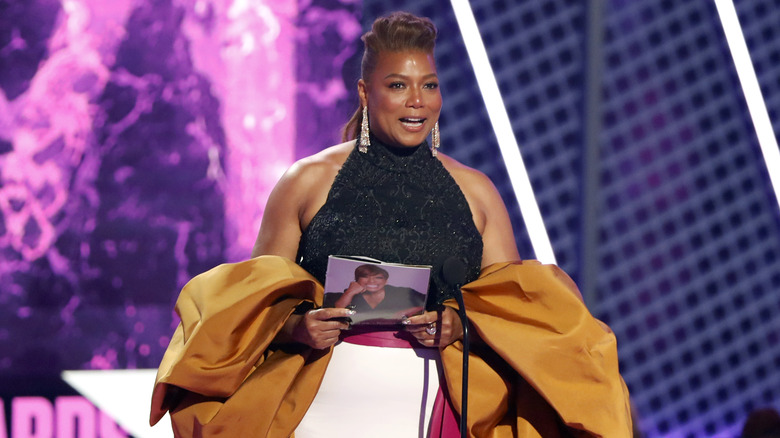 There was no better person to introduce Queen Latifah's BET Lifetime Achievement Award than fellow rap star MC Lyte (via The Hollywood Reporter). MC Lyte said Queen Latifah was "my sister in hip-hop but even more importantly, my sister in life," speaking about Queen Latifah's lasting legacy and relating her verisimilitude to a "Swiss Army Knife."
Then, Megan Thee Stallion, Jada Pinkett Smith, Mary J. Blige, Lil' Kim and more spoke about her in a pre-taped segment, before MC Lyte, Lil' Kim, Monie Love, and Rapsody performed Queen Latifah's hit song "U.N.I.T.Y." When it was finally time for Queen Latifah to accept the award, she was – understandably – overcome with emotion.
"I am so extremely moved, I don't even know what to say," she told the audience. She was joined onstage by her father as she held up a picture of her mother, who passed away in 2018. During her speech, Queen Latifah recognized the vital role BET played in the genesis of her career, saying it created "an outlet for beautiful Blackness to thrive, to shine. When we couldn't get played on the radio in other places." Adding, "There was BET that allowed us to be in our fullness and to shine to this night."
Perhaps most notably, Queen Latifah (who is notoriously private) said, "Eboni, my love, Rebel, my love," addressing her rumored longtime partner, Eboni Nichols, and their son Rebel – and concluding with, "Peace, happy Pride!"
Source: Read Full Article