The Truth About Lori Loughlin's Relationship With John Stamos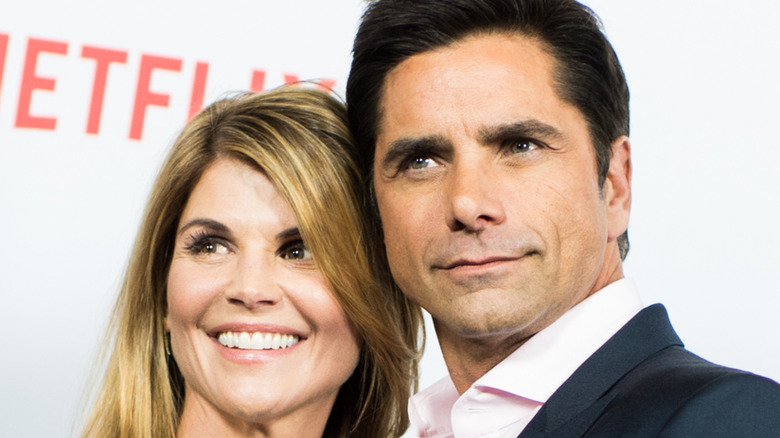 When it comes to iconic TV couples of the '90s, few come to mind as quickly as Uncle Jesse and Aunt Becky from "Full House." Viewers all over America watched for years as their less-than-steamy first meeting transformed into an idyllic representation of a love that anyone would aspire to find.
Throughout Season 1 of "Full House," America watched as a steady rotation of women entered and exited the life of Uncle Jesse, played by John Stamos, none captivating his attention for the long haul. In the second episode of Season 2, Lori Loughlin joined the cast of "Full House" as Rebecca "Becky" Donaldson and would soon become a staple member of the Tanner/Katsopolis household.
After a rocky start and a series of breakups, the pair officially becomes engaged early on in Season 4, and are finally wed by the end. Quickly becoming a fan favorite, the couple made a home in the attic of the iconic San Francisco home, and later welcome twin boys, Nicky and Alex, (via Fandom).
The on-screen chemistry between the pair is undeniable, but what was their relationship like behind the scenes? Glad you asked!
Lori and John had undeniable chemistry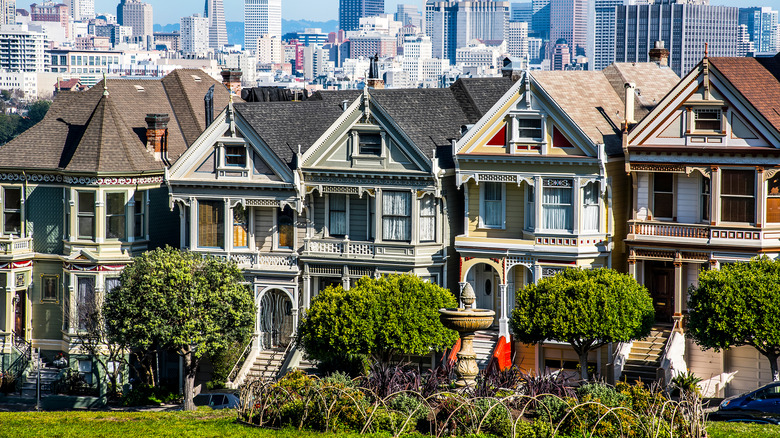 Lori Loughlin was reportedly only going to be around for six episodes, but her performance and chemistry with John Stamos landed her a much more permanent role on the sitcom, (via The Things). 
The effortless romantic energy between Lori Loughlin and John Stamos was so strong that fans began to speculate that the romance wasn't just for the cameras. As it turns out viewers weren't exactly wrong about the spark between Loughlin and Stamos, though it had burned out years before Loughlin ever set foot on the "Full House" set.
During their teen years, while acting on different soap operas, the duo met through shared social circles and went on a date to Disneyland, (via Bustle). The teen couple reportedly shared a kiss on the outing, but the romance did not persist. While Loughlin recalls a lukewarm reaction to the romantic encounter, Stamos told HuffPost Live that she might just be the one that got away, recalling, "We went on a date to Disneyland before we were both married. In real life, when we were 18, 19 years old … No disrespect to her family and her husband now, I would say that she could be the one that got away. She's one of my dearest friends, and that's good enough. I really do adore her."
Fans still root for Aunt Becky and Uncle Jesse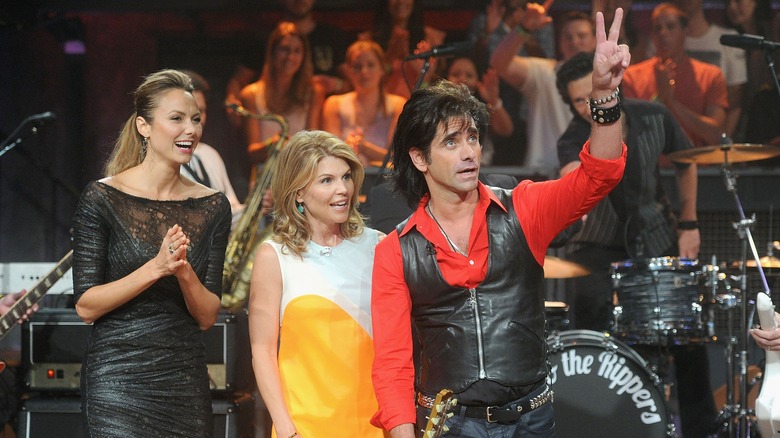 At the time of filming, Lori Loughlin was married to Michael Burns while John Stamos was in a relationship with model Rebecca Romjin, squashing any hope fans had for a romantic reunion between the on-screen couple. Neither relationship was built to last, and Loughlin divorced Burns in 1996. 
Later on in 1997, Loughlin married American designer Mossimo Giannulli and the couple has been happily together ever since. Fans frequently comment on her Instagram photos to let her know that she should have married Stamos, and Giannulli himself agrees! He often comments back to confirm that Stamos' sense of humor and commitment to friendship and jokes the actor would make for a better husband for Loughlin.
In 2018, Stamos married actress Caitlyn McHugh and extended an invite to the nuptials to Loughlin. Loughlin was absent at the ceremony, but don't worry – there's no bad blood here. Her absence was due to the fact that she'd committed to attending the Super Bowl with former "Full House" co-star Candace Cameron Bure, who played  D.J. Tanner, (via The Things)
Despite legal troubles, John supports his former castmate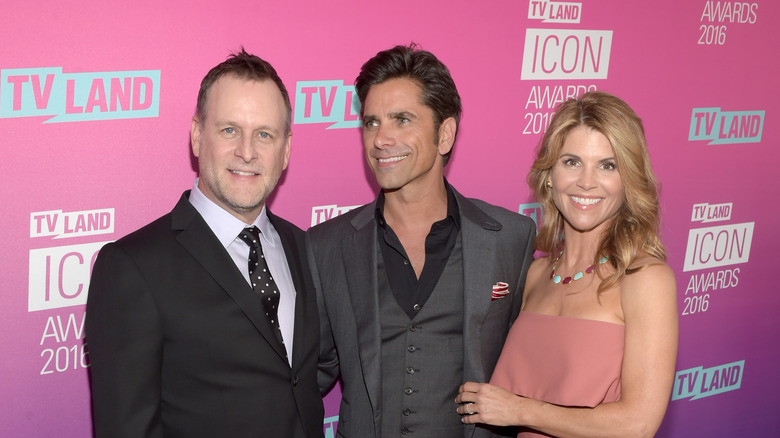 Through thick and thin, this friendship endures. John Stamos and Lori Loughlin always have each other's backs. Most notably, Loughlin faced legal troubles in 2019 as a result of reportedly paying $500,000 to falsify information in order to get her daughters into prestigious colleges. 
Upon hearing the news the day it broke, Stamos spoke on the phone with Loughlin to offer friendship and support as he'd done for decades. Noting that he doesn't quite know what to make of it all, Stamos told GQ, "Honestly, I can't figure it out. It doesn't make sense. I talked to her the morning everything hit. I just can't process it still. Whatever happened, I'm pretty sure that the punishment is not equal to the crime, if there was a crime."
Crime or no crime, Loughlin was noticeably absent during the last season of "Full House" revival series "Fuller House." Her absence went unaddressed for the first half of the season, and was later credited to Aunt Becky having to help out with her mother in Nebraska, (via ScreenRant). Regardless of the legal battle, it's nice to know that Loughlin still has the support of her on-screen husband. 
Source: Read Full Article