Who Is Ivana Trumps Ex-Husband Rossano Rubicondi?
It appears that Ivana Trump remains on good terms with her ex-husband, Rossano Rubicondi, despite the fact that they couldn't make their relationship work. The former couple has quite the history, dating for six years before tying the knot back in 2008. According to the Daily Mail, Trump and her much younger husband had a lavish $3 million, Midsummer Night's Dream-themed wedding at Mar-A-Lago, which is the Palm Beach estate owned by the businesswoman's second ex-husband, former President Donald Trump.
However, the two called it quits only eight months after that ceremony. At the time, Trump blamed their different lifestyles, saying (via People), "Rossano wants to live in Miami and work in Milan. But I am a New Yorker and my family, friends and businesses are here." Yet they didn't remain apart for long and were basically on-again-off-again for another decade.
In 2019, Trump and Rubicondi were back in the headlines for another break-up. Despite the large age gap, the exes once again blamed distance as the cause of their split. Trump explained to Page Six, "The relationship just ran its course. Rossano spends a lot of time in Italy and I spend a lot of time in New York, Miami and St-Tropez, and he has to work. The long-distance relationship really doesn't work." She did add, "We had a good time and are friends. The split was amicable." It's clear from a recent stroll together that the two did actually remain friends, but it appears that something always keeps Rubicondi away.
Rossano Rubicondi an actor who doesn't like Trump's kids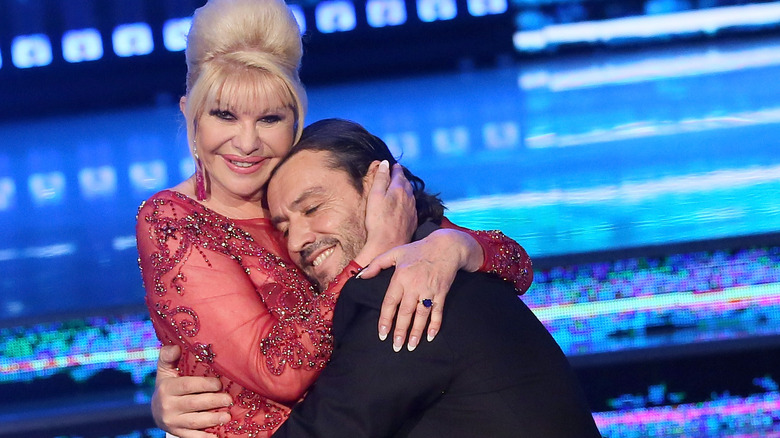 Rossano Rubicondi may be best known in the U.S. for being the younger, Italian ex-husband of socialite Ivana Trump, but it appears he was used to the spotlight before they got together as a model and an actor, according to Page Six. Rubicondi's IMDb lists appearances in TV series and movies in both the U.S. and Italy, with his last credit being in a 2018 film. Trump's ex also tried his hand at business. He had planned to open his own pizza joint, "Rossano to Go" but it's unclear if that ever took off.
Yet it was a stint on reality TV that some say led to Rubicondi and Trump's split. The Daily Mail reports that just months before their break-up in 2019, the former couple was hit with rumors that Rubicondi had cheated on Trump while filming the Italian celebrity version of "Survivor in Honduras," but Trump denied those allegations.
Despite not being able to work romantically, Rubicondi told Page Six that he had "good respect" for Trump, but he never took to her children, calling them "garbage." He dished, "In regards for the rest of the family, I am not [a] big a fan of it. They have been rude to me." He elaborated, "They are disgusting. We are talking about kids who are so stupid, except Ivanka." It seems the matriarch of the family doesn't mind the tension since Trump and Rubicondi looked pretty cozy again in 2021. 
Source: Read Full Article