Courtney Love Wants Olivia Rodrigo to Send Her Flowers and Apology Note for Copying Hole Album Cover
When accusing the 'Drivers License' hitmaker of copying her former band Hole's 1994 'Live Through This' cover album, the wife of late Kurt Cobain complains that it's 'rude' and 'rage-inducing.'
AceShowbiz –Courtney Love is not happy that Olivia Rodrigo's new promotional photo looked similar to the cover art of her former band Hole's 1994 album. Using a social media post to call out the "Drivers License" hitmaker, the wife of late Kurt Cobain demanded her to send flowers and an apology note for copying.
Taking to Instagram on Thursday, June 24, Courtney shared a photograph for Olivia's upcoming "SOUR Prom" concert film, which the 18-year-old singer posted on her own page one day earlier. Accusing the "High School Musical: The Musical: The Series" star of copying the cover art for Hole's "Live Through This" album, the 56-year-old rocker wrote shadily, "Spot the difference! #twinning! @oliviarodrigo."
The image shared featured a prom queen wearing a tiara and streaked mascara while holding a bouquet of flowers. In the comment section, Olivia responded, "Love u and live through this sooooo much." Courtney then replied to the teenager's comment, "Olivia – you're welcome. My favorite florist is in Notting Hill, London! Dm me for deets! I look forward to reading your note," adding a winking face emoji.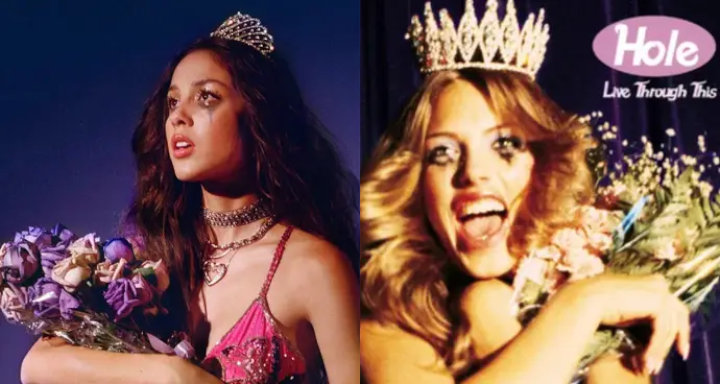 Hole's 1994 'Live Through This' cover album and Olivia Rodrigo's new promotional 'SOUR prom' photo.
On her Facebook account, Courtney voiced her concerns towards Olivia and her record label Geffen. She claimed it was "rude" of the "Good 4 u" singer not to ask her or "Live Through This" photographer Ellen von Unwerth for permission.
"I've informed her I await her flowers snd note," Courtney wrote. "I sure hope it's long. Does Disney teach kids reading and writing? God knows. Let's see. Yes this is rude. Rage inducing? Honey if I had a dollar for everyone this happens? I'd be real rich!"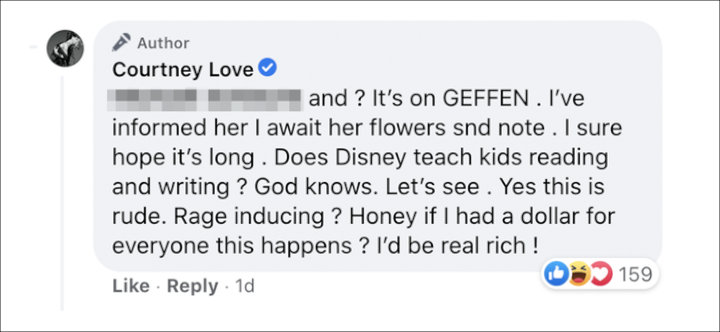 Courtney Love voiced her concertns towards Olivia Rodrigo and her record label Geffen via Facebook.
Defending Olivia, a fan wrote to Courtney, "This is a silly thing to get mad about. Artists steal all the time…Plus she's a kid. Why not be proud of the impact you have on her and others, instead of sniping at someone paying homage or borrowing one of your ideas?" The "Doll Parts" singer went on to reply, "I am both . Your version isn't mine . Stealing an original idea and not asking permission is rude. There's no way to be elegant about it . I'm not angry . It happens all the time to me."
"But this was bad form . That's not bullying or bomb throwing . This persons music has nothing to do with my life . Possibly never will . It was rude And I gave every right to stick up for my work . Don't gatekeep me ! I'm honorable as f**k to my fellow artists , and I expect the same," Courtney continued. She also stated, "My cover was my original idea. A thing you maybe have to actually live life to acquire? I don't know. Anyway. Disney? Yes it's rude."
Source: Read Full Article