Triathlete's Bid In Virtual Race Foiled By 'Idiot' Husband Tripping Over Cord
Although coronavirus-era precautions have moved triathlons online, it turns out that working from home poses unexpected hazards for athletes.
Australian triathlete Mirinda Carfrae recently lost her chance at victory in the inaugural Ironman VR Pro Challenge women's race, which she was competing in from her home in Colorado when her husband and fellow triathlete, Tim O'Donnell, accidentally tripped over the power cord to her smart bike.
Carfrae was in second place on the leaderboard before her husband's clumsy intervention, which disconnected her from the race. She was competing against three other international stars in the 56-mile bike leg that was streamed live to Facebook.
Another typical work-from-home disturbance was spotted throughout her race: her boisterous toddler Izzy rampaging in the background.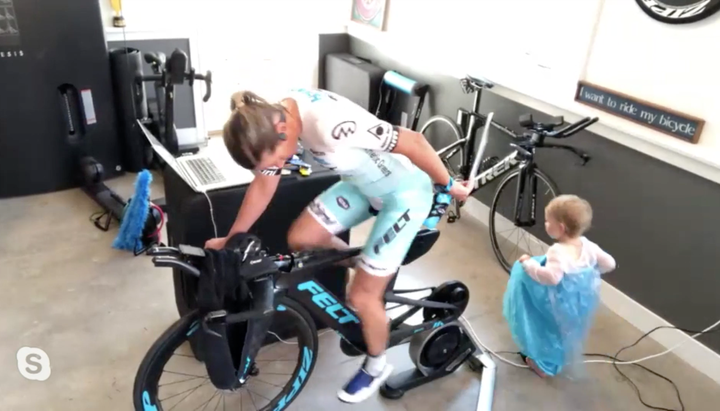 Despite continuing to pedal and finishing the race, her results could only be recorded as "unofficial."
In an Instagram story, the three-time world Ironman champ did her best to find the funny side, explaining that her husband had tripped on the plug when he entered the room.
"He decided to bring my trophies in here as motivation, and when he walked around the back, he kicked out the plug," she said, laughing on her Instagram story. "What an idiot!"
View this post on Instagram
A post shared by Rinny (@mirindacarfrae) on
Carfrae said it might take her a little while to get over it, but she's trying to be a good sport. For her husband's race next weekend, she vowed not to seek revenge.
"Tim is racing next weekend, and I won't pull his cord out," she said.
American Jocelyn McCauley ended up winning the race, Canada's Angela Naeth was runner up and Jeanni Seymour of South Africa came in third.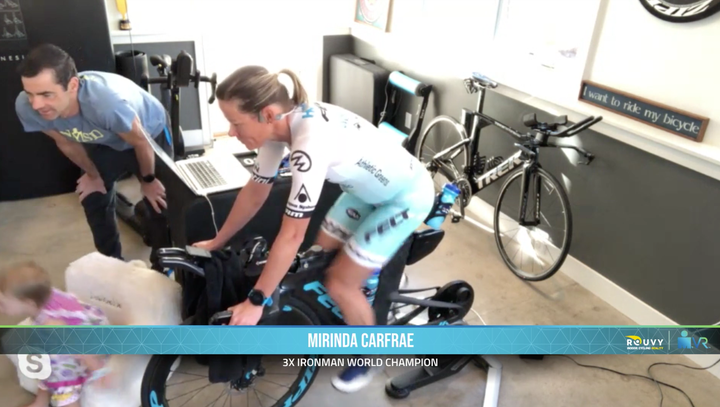 Stay up to date with our live blog as we cover the COVID-19 pandemic
How long are asymptomatic carriers contagious?
Why it might take weeks for people and businesses to get government relief
How to feel less lonely during social distancing if you live alone
I just got out of a COVID-19 ICU. Here's how I made it through.
How to make a no-sew coronavirus face mask
What to do if you live with someone with COVID-19
The HuffPost guide to working from home
What coronavirus questions are on your mind right now? We want to help you find answers.
Everyone deserves accurate information about COVID-19. Support journalism without a paywall — and keep it free for everyone — by becoming a HuffPost member today.
 
BEFORE YOU GO


Source: Read Full Article