Audi to Present Wheel of Fortune Contestant a New Car After She Lost on Technicality
After contestant Charlene Rubush lost an Audi in a recent episode of the show due to technicality, the car company reveals that it will be giving her a new car for free.
AceShowbiz -It seems like "Wheel of Fortune" contestant Charlene Rubush will be getting the best holiday gift. After Rubush lost an Audi due to technicality, the car company revealed on Thursday, December 23 that it will be giving her a new car for free.
Through its official Twitter account, Audi reacted to a viral video of host Pat Sajak telling Rubush that she couldn't take home the prize, which was an Audi Q3, because of a timing rule. "You're a winner in our eyes, Charlene. Now, let's get you a prize. Time to #GiveHerTheQ3," the account wrote.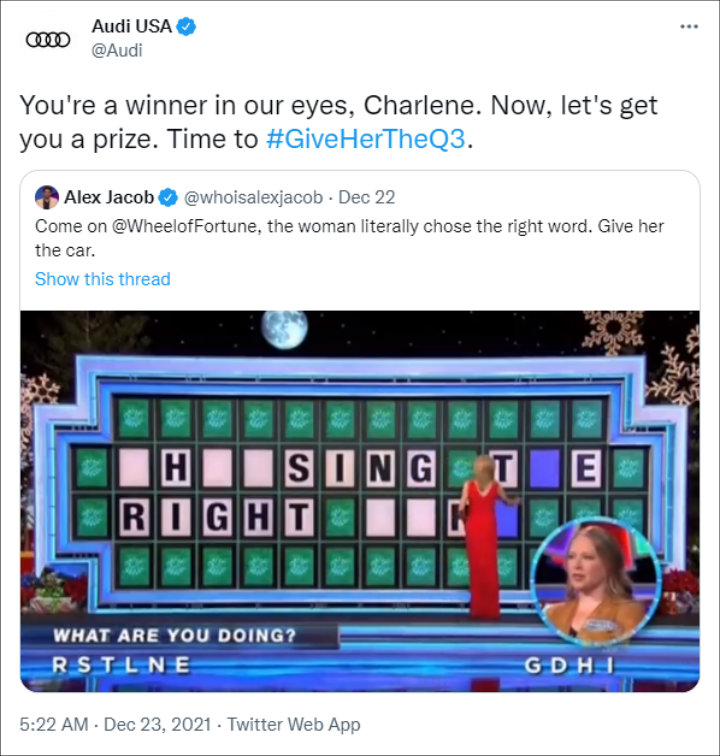 Audi to give a 'Wheel of Fortune' contestant a car.
Twitter users quickly applauded Audi for the generous act. "Bravo @Audi !!!! My parents had Audis and now I'm on my 4th. These aren't just cars, they are machines! She is a lucky girl and certainly deserves this," one person tweeted. "It really is the Season of Audi," another user wrote, to which Audi replied, "Season of Audi. Season of giving. Same thing, right?"
"I saw this in real time last night and was very upset for her. She won it and was so gracious in accepting his 'BS' explanation of a 'house' rule. Plus she's from Fla and now resides in Vegas. Give the lady her due," one other user added. Shading "Wheel of Fortune", a person tweeted, "Well done, Audi. Way to spread some Christmas cheer and protect your brand from the Grinchy move by WOF!"
The long-running game show sparked anger within viewers after Rubush failed to take home the grandprize despite guessing correctly in the final round in the Tuesday episode. During the "What Are You Doing?" category, Rubush originally guessed, "Choosing the right card," before quickly adjusting her answer to "Choosing the right … word." While her guess was correct, host Pat Sajak rescinded the prize due to a timing rule.
"You know, this one's tough because you said all the right words, including the word 'word' but, as you know, it's gotta be more or less continuous," the 75-year-old host explained. "We'll allow for a little pause but not four or five seconds. I'm sorry. You did a good job in getting it, but we can't give you the prize, and it was the Audi."
Following the episode, fans slammed the ABC show and accused it of having "hidden rules." One Twitter user criticized the game show for "the dumbest technicality ever," while someone else added, "I can't choose the right 'word' to explain how the #WheelofFortune just took the Audi away from the person who correctly got the puzzle right but lost on a technicality. #Sad. #bahhumbug."
Source: Read Full Article