Inside Vin Diesel And Mark Zuckerbergs Odd Relationship
"F9" star Vin Diesel is making headlines because it is becoming the world's biggest release since movie theaters shut down due to pandemic, via the New York Post. All the news about "F9" has generated interest in the friendship between Diesel and Facebook founder Mark Zuckerberg.
According to AP, Diesel is a fan of social media because he thinks it has helped change his public perception. In 2017, the actor told AP that Twitter and Facebook help fans understand that he is a "more rounded person" than some of the characters he plays on screen. The actor told the outlet, "Social media has allowed me to post a video of me singing to the mother of my children on Valentine's Day. How would you ever be able to see that before social media?"
The "Fast and Furious 9" star revealed that he shared one of his life's darkest moments on social media. Diesel said, "Social media has documented some of the most challenging moments of life – when I lost my brother Pablo ['Fast and Furious' co-star Paul Walker, who died in a crash in 2013]. There's wisdom that comes from an honest page."
According to Entertainment Weekly, Diesel was the first actor to get 100 million likes on Facebook in 2016. Social media is responsible for starting the friendship between Diesel and Facebook's Zuckerberg. Keep reading to find out about their relationship.
Mark Zuckerberg is a super fan of Vin Diesel's work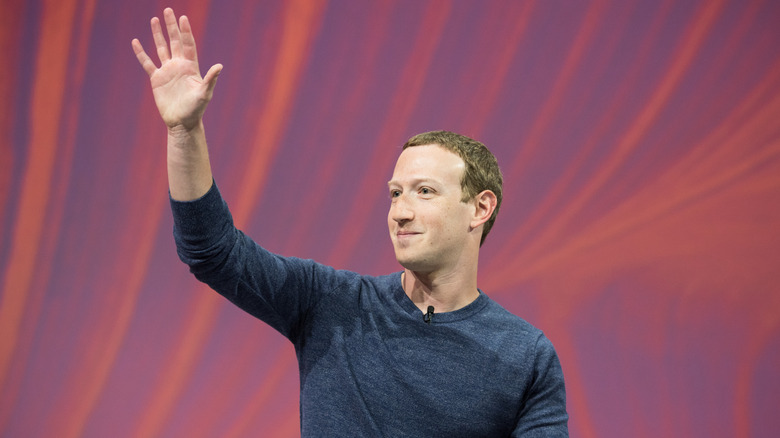 Facebook founder Mark Zuckerberg and "F9" star Vin Diesel became friends after connecting on Facebook. Diesel told GQ that their online relationship blossomed into a real-life friendship after presenting at an awards show in 2017. Zuckerberg is a fan of the "Fast and Furious" franchise and a super fan of Diesel's "xXx" Xander Cage movies.
In a 2017 New York Times interview, the actor gave the tech billionaire high praise. Diesel said, "I love him. He's such a great guy and he's a fan of my work." The "Fast and Furious" star told the outlet that Zuckerberg encouraged him to bring back character Xander Cage for an "xXx" sequel.
Diesel told The New York Times, "It's at a point where if Mark and I are together and if I quote a line from a character I played and I do it slightly wrong, he'll correct me. It's embarrassing!"
Gizmodo joked about the friendship between Diesel and Zuckerberg after reporting on an interview Zuckerberg did with the "F9" star. Gizmodo urged readers to "find someone who looks at you like Mark Zuckerberg looks at Vin Diesel."
Source: Read Full Article