Jared Padalecki and Jensen Ackles End Feud Over Supernatural Prequel The Winchesters
Prior to this, Jared revealed on Twitter that he felt blindsided by the fact that Jensen is developing a 'Supernatural' prequel without involving his character Sam Winchester.
AceShowbiz –Jared Padalecki and Jensen Ackles assure fans that there's no bad blood between them. Despite Jared's apparent upset over "Supernatural" prequel series that Jensen is developing without him knowing, the two, who starred on the popular series, took to Twitter to tell fans that they're on good terms.
In his post, Jared revealed that he and his former co-star "had a great talk, as we do often, and things are good." He went on to tweet, "The show is early in the process with miles to go. We've travelled a lot of roads together, and sometimes those damn roads have bumps." However, the Sam Winchester depicter added, "Bumps don't stop us. Once brothers, always brothers. #spnfamily."
Jensen, who played Dean Winchester on "Supernatural", echoed the sentiment. "Love you @jarpad," he replied to him. "Miss these talks. I forgot how much face time we always used to get. And I miss that too. I know you're busy…as am I, but you're still my brother. I miss you, pal."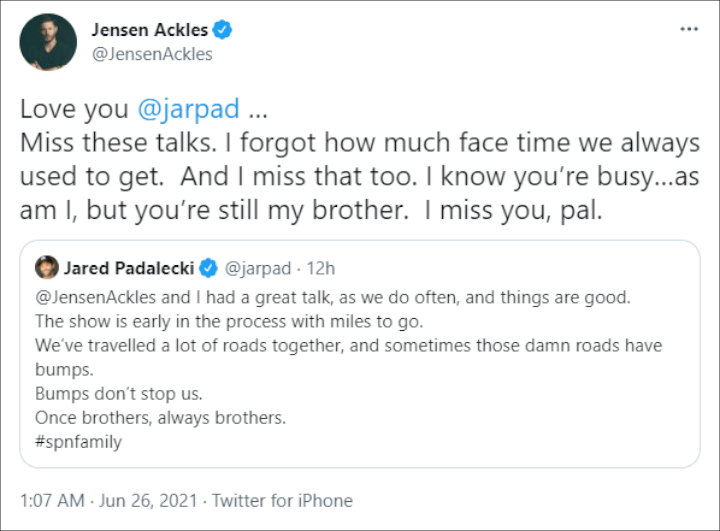 Jared Padelecki and Jensen Ackles assured there's no bad blood between them.
This arrives after Jared admitted that he was "gutted" after learning about "The Winchesters", a "Supernatural" spin-off, being developed by Jensen on The CW. Catching wind of the news, Jared wrote on Twitter on Thursday, "Dude. Happy for you. Wish I heard about this some way other than Twitter. I'm excited to watch, but bummed that Sam Winchester had no involvement whatsoever."
A fan apparently thought Jared was making a bad joke but the 38-year-old told the fan that it was his honest reaction. "No. It's not. This is the first I've heard about it. I'm gutted," he explained.
Jensen is tapped to executive produce "The Winchesters" along with his wife Danneel Ackles. Described as an "epic, untold love story," the prequel is set explore how the Winchester parents, John and Mary, met and "put it all on the line to not only save their love, but the entire world."
It remains to be seen if Jeffrey Dean Morgan and Samantha Smith, who played the couple on the original series, are involved in the planned project, which was given a script commitment. Meanwhile, Jensen will return as Dean to narrate the show, which is told from his perspective. "Supernatural" writer Robbie Thompson pens the show in addition to joining the Ackles couple as an executive producer.
Source: Read Full Article