Rita Moreno Was Gorgeous When She Was Younger
These days, Rita Moreno is known as a respected actor, an award-winning performer, and an entertainment industry icon. You've surely seen her earlier work in 1952's "Singin' in the Rain" starring Gene Kelly and Debbie Reynolds, 1956's "The King and I" with Deborah Kerr and Yul Brynner, or in 1961's "West Side Story" in which she played Anita. In the last few years, you might have spotted her on "Jane the Virgin" and "One Day at a Time."
That's right: Moreno — who turns 90 in December 2021 — has appeared on screen more times than you likely realized. While you might not know everything there is to know about this particularly intriguing figure, there's no doubt that she has spent her career standing out.
Indeed, while there's no doubt that Moreno has always had both the talent and charisma to make it as a star — and a financially successful one at that — she has also always had camera-worthy good looks.
Rita Moreno was stunning but faced an issue with her skin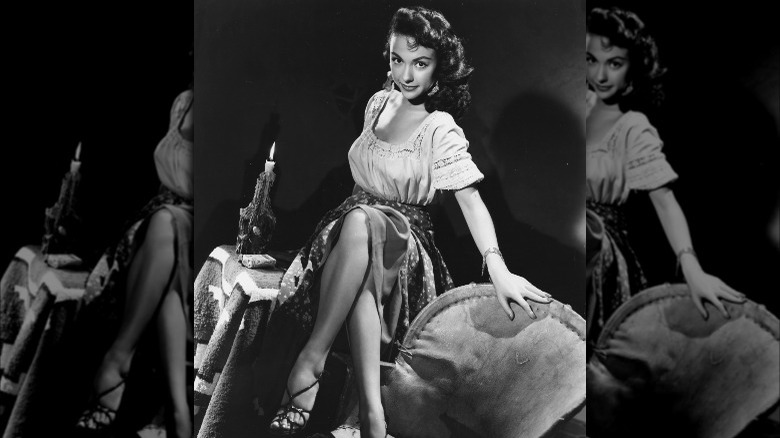 When Rita Moreno was a young woman, she was simply stunning. With dark hair, a fine figure, and the ability to deliver a stare that surely captivated countless admirers, she seemed to be destined to be a movie star. However, it turns out that not everything was as simple as it seemed when it came to her beauty.
"When I was in my teens and into my early 20s I had acne," Moreno told People in 2017 for the "World's Most Beautiful" issue. "I used to get those big purple jobs but not a lot of them, thank goodness, because you really couldn't see them in the films that I did." To address the issue, the actor underwent beauty treatments and that used both ultraviolet light and acetone on her face. She recalled, "I had my own special glow. I am so lucky. I have no craters."
As for how Moreno looks today, she admitted to People, "I was born in Puerto Rico — I used to sit in the sun until I looked like a piece of bacon. It's a wonder now that I don't look like an old wallet. I'm a very fortunate person." Not only has Moreno been fortunate, she also had the kind of beauty that attracted some of the most famous — and desired — men in show business.
Rita Moreno dated both Marlon Brando and Elvis Presley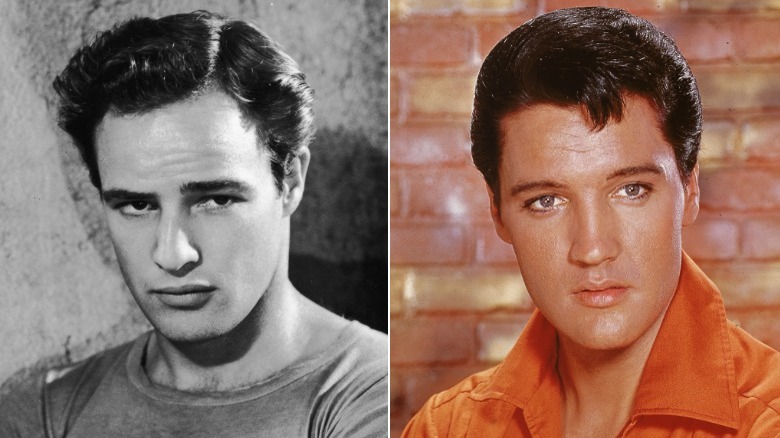 Thanks to Rita Moreno's skill, savvy, and beauty, she securely established herself a place in the hearts of audiences from around the world. She also captured the eye of two famous men who were also known for their star-worthy good looks. Back in the '50s, Moreno began a relationship with Marlon Brando. First introduced in 1954 on the set of "Désirée," Moreno told Closer Weekly, "It was lust at first sight!" Together on and off for eight years, she added that their "sensual life was unbelievable," but their dynamic was "obsessive." She also admitted, "The more I saw of Marlon, the less I thought of myself."
On top of that, Moreno admitted on "The Wendy Williams Show" in 2018 that after finding someone else's lingerie at Brando's house, she agreed to meet up with none other than Elvis Presley. In "Rita Moreno: A Memoir," she confessed (via InStyle), "My delight in dating Elvis hinged entirely on one fact. I knew that no one could possibly make Marlon Brando more jealous."
Granted, Moreno and Brando weren't meant to last, and the same can be said for Moreno and Presley. Instead, she went on to marry a cardiologist named Leonard Gordon, who then stepped in to act as her manager. Gordon died in 2010, and in 2017, she called him the "love of [her] life," per People. Although she also called Brando the "lust of [her] life." Oh my!
Source: Read Full Article