Sophie From Cory In The House Is Unrecognizably Gorgeous Now
Madison Pettis became a Disney darling when she was cast as Sophie Martinez in the "That's So Raven" spinoff "Cory in the House." Sophie was known as "America's Angel," but to Cory Baxter (played by Kyle Massey), the president's precocious young daughter was a puckish thorn in his side.
Pettis was just 7 years old when she was cast as Sophie, but the Arlington, Texas native landed a few other acting gigs before joining the Disney Channel family. Just like Selena Gomez, her first acting role was an appearance in a video starring Barney the singing purple dinosaur, per IMDb. However, Pettis' career in showbiz began even before that. On a 2020 episode of the "Poddy Talk Podcast," she recalled being at the mall when the parenting magazine, Fort Worth Child, was searching for a cover model. The magazine was snapping Polaroids of children and giving each candidate a free balloon. "I just really wanted the balloon," she confessed.
A few months later, Pettis' mother got a call saying that her daughter had been chosen to appear on the magazine's cover. During Pettis' photoshoot, the photographer saw her potential and suggested that she enroll in acting classes. "My mom was hesitant because she wasn't involved in the entertainment industry on any level but she could see how much I loved it," she told LEFAIR Magazine. Soon, she was getting more modeling work and appearing in commercials. It was not long before a child star was born.
Why Madison Pettis almost missed out on 'Cory in the House'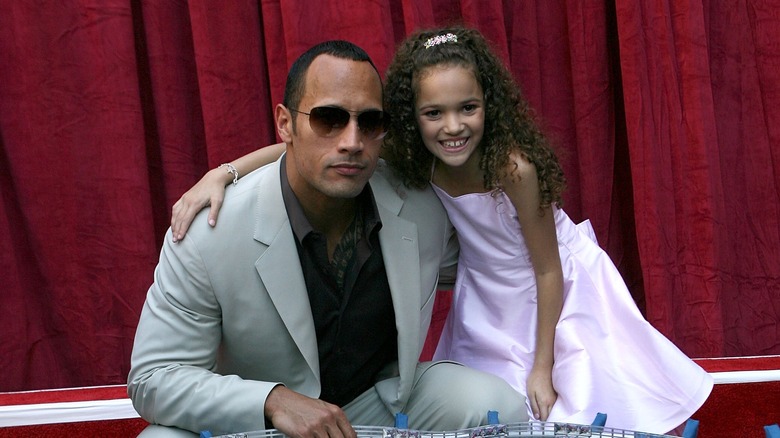 Madison Pettis told "Poddy Talk" that she flew out to Los Angeles, where she auditioned for "Cory in the House" and the movie "The Game Plan." She was offered both roles, but due to scheduling conflicts, she had to pick one. She went with "The Game Plan." In a stroke of serendipity, the production got pushed back after the movie's lead, Dwayne "The Rock" Johnson, tore his Achilles tendon while he was training for his role as a professional football player. Thus, Pettis hit the Hollywood jackpot.
Pettis admitted that she had no idea who Johnson was and "wasn't nervous at all" while doing chemistry reads with him. During a 2007 interview with Chuck the Movieguy, she recalled what she said to him during their first screen test: "If you're The Rock, then I'm The Pebble." She later said that Johnson was like a father to her and tried to convince her to eat healthier. "It didn't work. I still eat donuts every morning," Pettis told Access Hollywood in 2017. It probably did not help that Johnson was also fond of the sweets. "On the first day he got Dunkin' Donuts for me because that's his favorite snack and he put them in my trailer," she told Gone with the Twins in 2007. She arguably deserved them after doing 35 takes of a scene that required her to eat vegan pumpkin pie that tasted "like watery Play-Doh."
Madison Pettis got cozy with the son of Hollywood royalty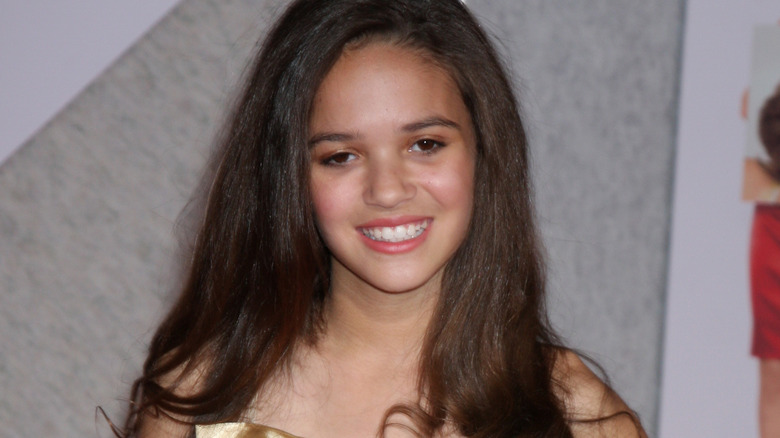 In 2008, the same year that "Cory in the House" ended, Madison Pettis appeared alongside actor Will Smith in the movie "Seven Pounds." She became friends with his son Jaden Smith, and when her pal starred in the remake of "The Karate Kid" in 2010, she showed up to the movie's premiere to support him. "I've known him for a couple of years now, and I'm real excited, because I think the last time I saw him was his birthday party last year," she said during a red carpet interview with MaximoTV. She also expressed interest in working with Jaden someday.
Jaden and Pettis still do not have a working relationship as of July 2021, but the two proved that their friendship was still going strong in June when they were spotted together at The Nice Guy in Hollywood. Just Jared published numerous photos of the pair, including a few that captured them sharing a warm hug and one that showed Pettis laughing, while she was having an intimate conversation with Jaden. That same night, they were both in attendance at Harry Hudson's birthday party. Their affectionate display sparked rumors of a possible romance, but they have neither confirmed nor denied whether or not they have taken their relationship to the next level.
Madison Pettis' first on-screen kiss was with this co-star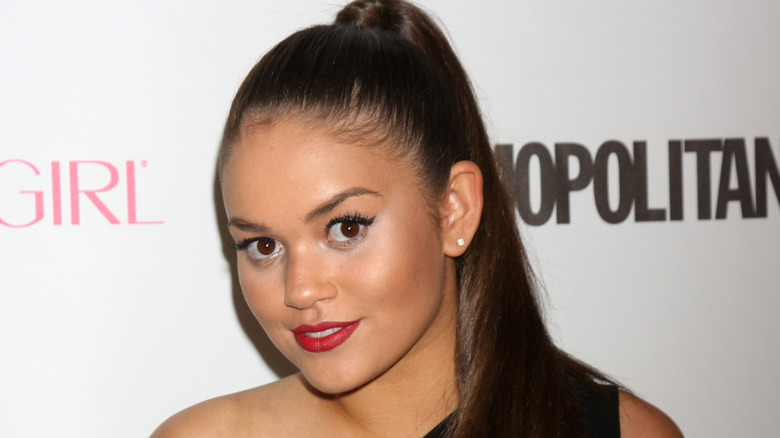 Madison Pettis had no shortage of work after "Cory in the House" was cancelled. She proved that she also had a talent for voicework with her roles in "Beverly Hills Chihuahua 3: Viva La Fiesta!," "Phineas and Ferb," and "Jake and the Never Land Pirates." Beginning in 2011, she appeared alongside good friend Torri Webster in "Life with Boys," and the House of Mouse gave her another live-action role in the Disney XD series "Lab Rats: Bionic Island" a year later. "'Lab Rats' is awesome because they have a bunch of special effects, and it's a really interesting concept for a show, so there's always something new and interesting to look forward to," she told MaximoTV in 2013. That same year, she revealed that she was "obsessed" with the ABC Family series "The Fosters" during a Shine On Media interview.
Fast forward to 2015, and Pettis had landed a role on "The Fosters." Her character, Daria, found herself caught up in a love triangle, and Pettis had her first on-screen kiss with co-star Gavin MacIntosh. "It's definitely as awkward as I thought it would be," she told Hollywood Life of the experience. "It's a very weird situation, making sure the camera can see what you're doing." Pettis said that MacIntosh was also uncomfortable, despite having done kissing scenes before, but they were able to laugh after the dozen-plus takes that they had to film.
Madison Pettis got a small taste of what it's like being pregnant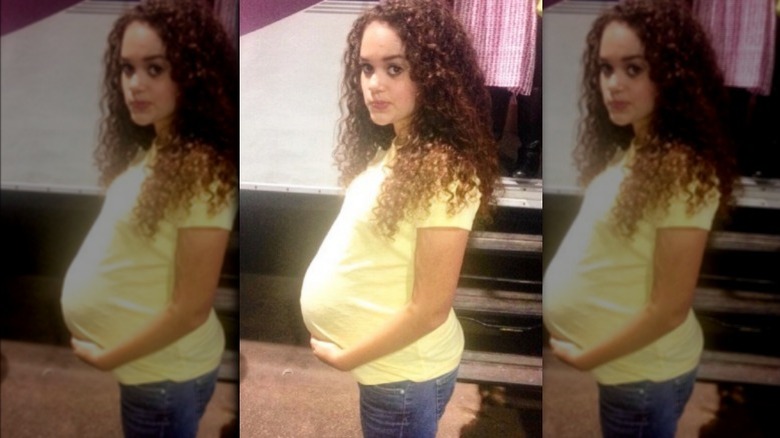 In 2015, Madison Pettis played a teen mom-to-be in the film "Do You Believe?" which was produced by the same team behind "God's Not Dead." During an interview with Young Hollywood, she revealed that she wanted to pursue "more mature roles" as she got older, so she really liked the idea of playing a homeless, pregnant 16-year-old. However, the prosthetic belly that she had to wear presented a challenge. "I couldn't sit down comfortably. I couldn't bend to tie my shoes. I walked with a bit of a waddle," she told the Fort Worth Star-Telegram. Pettis recalled that fans who visited the movie's set were "confused" when they saw her in character, and she had to tell them that she was not actually pregnant. Pettis was even asked "how far along" she was.
"All teenagers should go through this, because it does not make you want to be pregnant," Pettis told Young Hollywood. She said that her mom also found the situation "weird." In addition to getting into character by rocking the cumbersome prosthetic, Pettis avoided brushing her hair for days and did not wear makeup. "I give birth in the backseat after a car accident, which was one of the most challenging scenes I've ever shot," she told Composure.
Madison Pettis transitions from America's Angel to American Pie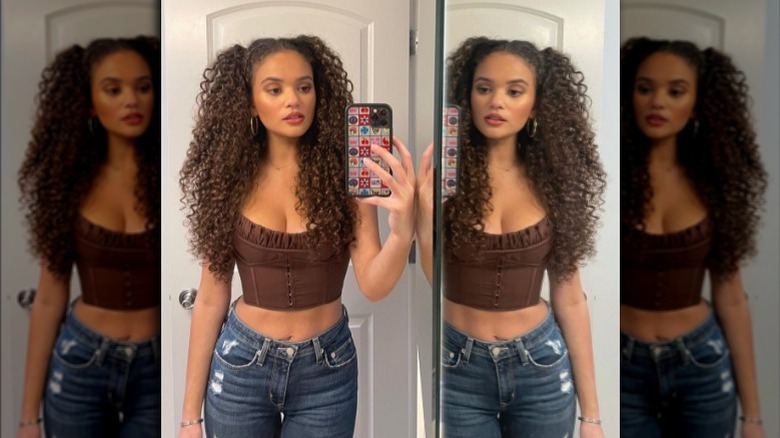 Madison Pettis shed her Disney image completely in 2020 when she appeared in the Netflix film "American Pie Presents: Girls' Rules." For this installment of the raunchy "American Pie" franchise, the girls are the ones who get to let loose. In one scene, Pettis' character tries to climb a fence while wearing nothing but a trench coat and lingerie, and she ends up getting a horrific wedgie. 
In 2021, Pettis landed a role in another movie with a connection to a '90s classic. In "He's All That," she will play a character based on the problematic popular guy portrayed by Paul Walker in the 1999 movie "She's All That" (via Deadline). The new movie swaps the genders of its cool and nerdy protagonists, with TikTok star Addison Rae playing an influencer who tries to get a "loser" (played by Tanner Buchanan) elected prom king.
Like Rae, Pettis is a real-life social media influencer. She's an ambassador for Savage x Fenty, Rihanna's intimate apparel company, and she has a paid partnership with the Fabletics brand. While she clearly has no shortage of opportunities available to her, she aspires to do even more. One of Pettis' plans involves the woman who has been with her from the start. "I want to produce. It's been a dream of mine to have a production company with my mom," she told LEFAIR. "I'm not sure how short term or long-term that goal is but it's definitely something I want to do."
Source: Read Full Article