What 'Good Morning America's' Robin Roberts Would Tell Her Younger Self
Robin Roberts of Good Morning America recently celebrated her 30th anniversary with ABC. First joining ESPN in 1990 and then heading to GMA's news desk in 1995, Roberts has reported on everything from natural disasters to celebrity gossip since co-anchoring the morning news program.
Surviving two bouts of cancer, the journalist has shared her own personal story of overcoming illness and standing strong in the midst of adversity. Roberts has previously revealed what she would tell her 'younger self' now with the wisdom she has acquired.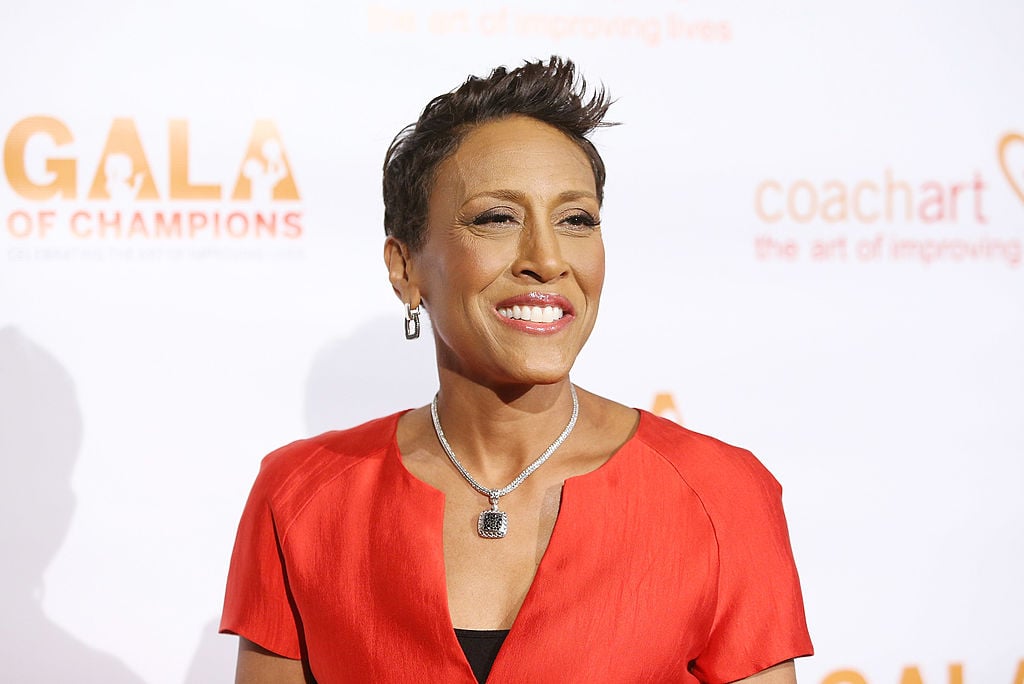 Roberts keeps it positive
The GMA star is a fan favorite for her warm demeanor and optimistic attitude. As a former basketball player, Roberts knows that mastering a skill takes practice and applies that school of thought when it comes to maintaining a positive outlook.
"I remember from when I was an athlete, I was always at my best if I'd put in the work," Roberts told The Cut in November 2018. "It's no different with the work that I do here. I just make sure that I'm absolutely as prepared as I can be; you have to change the way you think to change the way you feel. Why think of the worst-case scenario? I make sure that my mindset is thinking in a positive way."
Roberts finds that repetition of the positive practice has now made her upbeat mindset come naturally. "Thankfully, I've gotten into the habit, and I say it countless times, because repetition is the mother of skill: Optimism is a muscle that gets stronger with use," she explained. "Because I exercised it at an early age, it's become a habit. I'm very proud of that — it helps me in stressful situations."
Striking a balance
With Roberts' demanding schedule and career, she chooses to consciously make room for what's important, including time with loved ones and attention to health and wellness.
"With all matters in life, I find a game plan. That's how I approached my illnesses," she shared. "Cancer was the opponent. My doctors were my coaches. The treatment was the game plan."
Part of that game plan includes taking a break from her work day to center herself and get some exercise. "I try to do pilates or yoga in the middle of the day to break it up, because when you're doing morning television, you're never really off," Roberts noted. "For those who believe we only work two hours a day, that's not true. There's a lot of prep work that goes into preparing for the next day."
Despite having a packed calendar, Roberts carves out specific blocks of time for the ones closest to her in her life. "[My partner] Amber [Laign] and I have been traveling a lot on weekends because I've had a lot of appearances, and we make time for each other during those periods. It's just about making those moments," she said.
Advice from Roberts to Roberts
With Roberts' years of professional and personal experience, she has gained some invaluable wisdom that she would pass on to her younger self if given the opportunity.
"I come across as being so strong, and I am, but I'm also quite vulnerable," the ABC news anchor admitted. "I would tell my younger self: your mom and dad are going to die, you're going to almost die. But you know what, you're going to be sitting here one day talking to The Cut, and people are going to want to hear your story. Hopefully, there will be something that someone can glean from it, that will make their life better at this particular moment."
Roberts encourages others not to let fear dominate their lives or keep them from pursuing their goals. "Don't be so afraid," she advised. "You're going to F up in big ways so many times, and it's going to be okay. You're going to figure it out."
Sharing some insight from her sister, Roberts hopes to inspire others to stand up to their fears rather than being controlled by them.
"There are so many incredibly talented people out there who are afraid. I just want to shake them and say, we all are. Every one of us is," Roberts insisted. "My sister Sally said it best: 'Don't let fear keep you from your destiny.' So many people stay on the sidelines, and it pains me, because I want them in the game too."
As always, Roberts finds a way to sum up her point, saying, "You don't get to choose the music that life plays you, but you do get to choose how you dance to it."
Source: Read Full Article